Sí Gallery/SXSW Exhibition Closing
May 15, 2022

Gallery in Austin, Texas comes to a close. Featured art piece "BarFbie" from Vanity Series gained much attention and sold outside of the exhibit. Successful promotion indeed. It was great that this gallery was in a row of museums and galleries next to and during SXSW which heavily increased exposure on my work. Thank you Sí Gallery, again for the opportunity of a lifetime!
Read more about the gallery:
Sí Gallery is a brand new exhibition space built by the Dab Art Co. and located in the very trendy East Sixth neighborhood of Downtown Austin.
East Sixth is hipster central for Austin. It's home to honkytonks, dive bars, and restaurants. It's also home to several live music venues, notably The White Horse and Hotel Vegas, both of which serve Austin's budding musical talent. Home to the new Tesla headquarters and the famed SXSW (South By Southwest) Festival. The eclectic local population of artists, professionals and techie's have made their home on "the Eastside" of Austin creating a unique and thriving downtown district.
Before and after - Photoshoot: "The duty of the branch is to cling to the vine."
May 7, 2022
Meet up with fellow creative and artist Jerod Thompson over the weekend and collaborated on this Polaroid art project, part of an ongoing body of work as you can see on @Lenny__Gerard's Instagram that features digital-to-instant film work.

It was so nice being part of a collaboration and having the experience of seeing and being a part of a creative process involving light, shadow, prop styling, and my favorite hobby, plants! My condo filled with various rare plants gave Jerod and I the ability to chose one that called out to me, then I helped style the shoot to create the work below by perfectly staging the plant within the foam barriers neatly carved as props for aesthetic purposes.

The imperfections in the resulting Polaroid image were kept untouched as I've always considered film imperfections caused by the Polaroid Lab to be part of the allure in any film work.
We shot the images on my Digital Canon R5, I retouched in Photoshop leaving some imperfections in and even embellishing them, and then printed the image. The 30 minutes it took to develop felt like eternity!
Did you know it takes 28 minutes to fix a Polaroid? and the blacks aren't truly black until 24 hours after development. I scan them after 27 minutes anyways :-/
(use the slider below on the image to see the before and after of the film print and the retouched digital image)
Thank you Jerod for the wonderful time and outcome!
Stay tuned for more!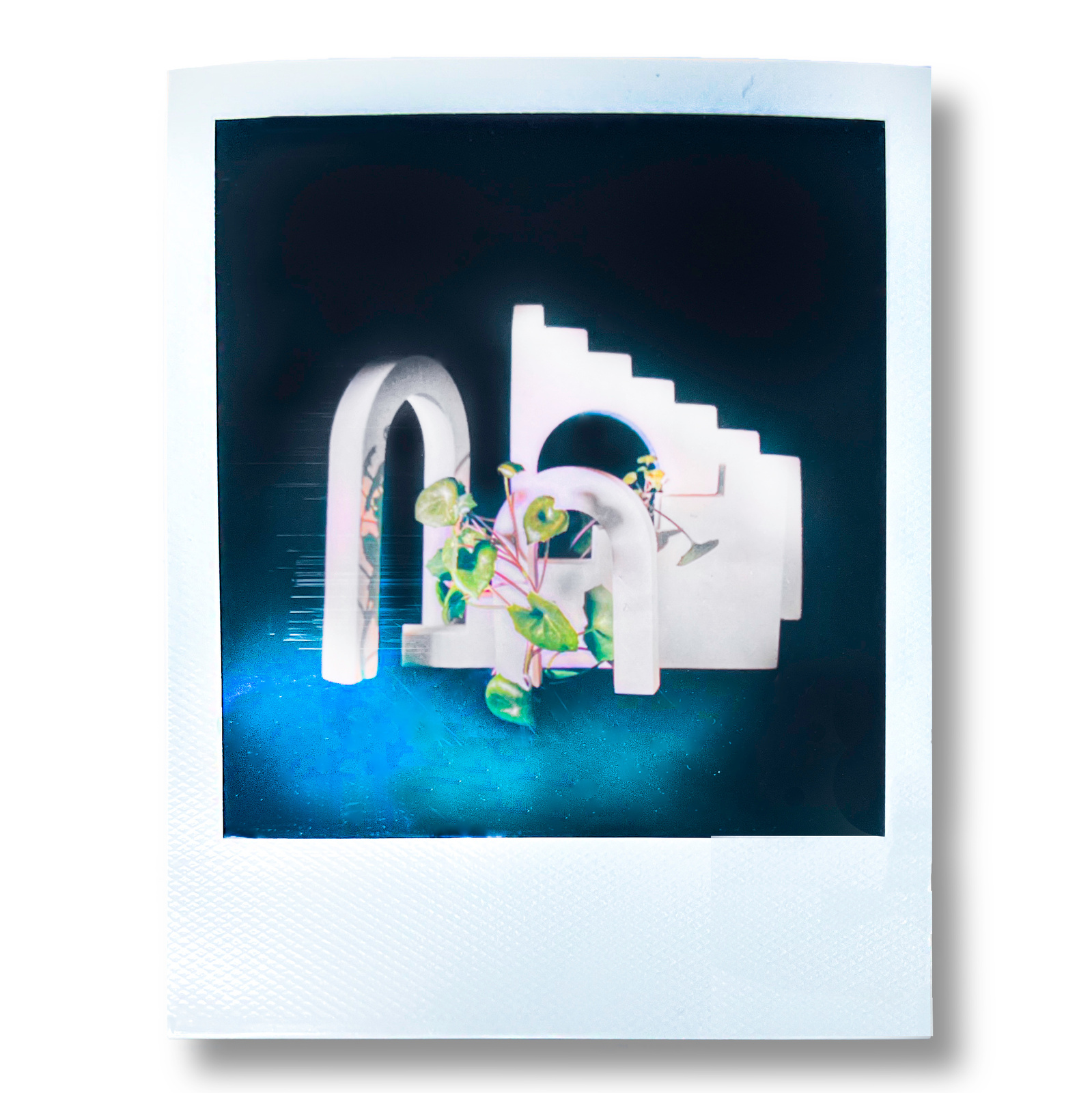 Polaroid After Polaroid Lab Print
Digital Rendering