SOLO EXHIBITION NOW ON VIEW
"INNER CHILD "
AUGUST 1 - NOVEMBER 1, 2022
Lenny is pleased to present "INNER CHILD", a solo exhibition of works from 2021.


Biography:

Lenny Gerard grew up in San Diego, CA in an environment of music, art, books, photography, and various outdoor activities. His mother was a professional glass, textile, and fiber artist. Lenny attended Parsons School of Design in New York where he received his B.F.A. in Photography and a B.A. in Liberal Arts. Lenny is a Digital Campaign and Content Producer/Art Director. He's worked for Fortune 500 companies such as Netflix and NBC and continues to take on new clients.
Artist Statement:
As a young boy, I never wanted to play with guns, toy tractors, or race cars. My mom knew and accepted that I was beginning to discover my sexuality, but she fully embraced it.
My mom presented me with her coveted collection of barbies and barbie paraphernalia she had collected throughout her childhood. It was all in a 20-gallon plastic box. The box had a distinct smell when I opened it. I could almost taste the smell. I loved its nostalgic, pungent taste, like that of my grandmother's perfume. I'll never forget it. Somehow, my mom knew, as a boy, I'd enjoy the barbies. She was right. They became my everything.
Years later, I found myself in an emotional crisis. I needed to dive into a creative project to distract me from what was around me, my thoughts, and my feelings… So I dove into this box of barbies.
These photographs are an expression of my fascination with color, light, and shadow — and how they interplay with the emotional examination of a landscape. This series is an exploration of an unrealistic, unhealthy, insulting representation of the female appearance.
My goal is to transport the viewer into a surreal reality inspired by their inner child. As we grow from happy-go-lucky children into responsible adults, we leave behind the spirit of the child. We leave behind a curiosity, a wanting to play, and a sense of wonder and innocence. As adults, we must decide to return to that feeling.
In still-life photography, one must carefully choose props — placing them within a setting that provides context. Our childhood fascination with toys and collections, often put away in storage, comes out of the closet in these photos — Barbie reflected, flowered, and fried.
-Lenny Gerard
High-Traffic International SOLO SHOW In the Works w/ Dab Art Co.
About Dab Art Co.
In 2011 Yessíca Torres opened H Gallery + Studios in Ventura, California. As co-owner and chief curator of H Gallery, Yessíca's contemporary and modern program was a clear break from the conventional art scene that surrounded her. H Gallery's progressive gallery design and ambitious exhibition schedule were received with immediate regional success. Her program made H Gallery one of the most prevailing contemporary art spaces in the greater Los Angeles area.

With the revelation that art exposure should not be limited by physical location, Yessíca independently established Dabster Arts Inc. (Dab Art Co.) in 2014. This distinctive art company is dedicated to enhancing the contemporary art experience for artists, collectors and viewers in and outside the gallery setting. Dab Art embraces the relentless evolution of contemporary art by featuring experimental artists, highlighting innovative techniques and utilizing technological advances.
Since its initial launch, the Dab Art Co. has expanded from simple gallery exhibitions to art publications, artist talks, panel discussions, video profiles, exhibition videos and documentary filmmaking; examining the process and identity of artists. Now in her 11th year, Yessíca has galleries in Ventura, Los Angeles, Mexico City, Austin and opening soon in Miami (Dec 2022).
Dab Art Co. Gallery Exhibitions and our Online Exclusive Exhibits garner views into the tens of thousands. Our long standing partnership with the online art sales platform ARTSY has proved to be an invaluable resource. With buyers from 130+ countries and an average transaction distance over 3,000 miles, ARTSY has provided the connections needed to grow our collector base. Our partner platform receives 2.2 million+ unique visitors every month across web and mobile which means artists and exhibitions featured by Dab Art Co. are well-positioned for optimal collector visibility. Dab Art Co. is in good company, Gagosian, Hauser & Wirth and Simon Lee also use this curated platform.
Other Gallery Locations Worldwide (Besides Los Angeles)
Lenny's Polaroid enters the Los Angeles County Museum of Art (LACMA)!
Polaroid juxtaposition (cut) SERIES has reached over consecutive 45 pictures!
Day vs. Night Juxtaposition Polaroid series has now hit over 45 pictures. Walt Disney Music Hall photo Entering the L.A.C.M.A. bookstore (4th below)!
Sí Gallery/SXSW Exhibition Closing
May 15, 2022

Gallery in Austin, Texas comes to a close. Featured art piece "BarFbie" from Vanity Series gained much attention and sold outside of the exhibit. Successful promotion indeed. It was great that this gallery was in a row of museums and galleries next to and during SXSW which heavily increased exposure on my work. Thank you Sí Gallery, again for the opportunity of a lifetime!
Read more about the gallery:
Sí Gallery is a brand new exhibition space built by the Dab Art Co. and located in the very trendy East Sixth neighborhood of Downtown Austin.
East Sixth is hipster central for Austin. It's home to honkytonks, dive bars, and restaurants. It's also home to several live music venues, notably The White Horse and Hotel Vegas, both of which serve Austin's budding musical talent. Home to the new Tesla headquarters and the famed SXSW (South By Southwest) Festival. The eclectic local population of artists, professionals and techie's have made their home on "the Eastside" of Austin creating a unique and thriving downtown district.
Gallery Show in Downtown Los Angeles
"PEOPLE ARE STARTING TO NOTICE"
FEBRUARY 26 - APRIL 23, 2022
334 SOUTH MAIN STREET, LOS ANGELES
The Dab Art Co. is pleased to present PEOPLE ARE STARTING TO NOTICE at our Main Street Gallery in Los Angeles, CA. The title and concept for our 8th annual photo exhibition in Los Angeles comes from a quote from Arthur Fleck in 2019's JOKER film. PEOPLE ARE STARTING TO NOTICE is an observation that Arthur makes about peoples reaction to transition from insignificant and average to the menacing joker realized at the end. His transition into the sinister version of himself is mimicked in the chaos of the public's unrest of their current economic and social plights. Eerily similar to our current climate of unrest due to the pandemic, in-spite of personal setbacks Arthur realizes his true self and takes form. The photographs selected for exhibition represent the unique perspectives of each photographer, documentarian and explorer and as an artist. Their personal experiences, aesthetics and artistic interpretations of the world around them have been assembled into one formidable exhibition and PEOPLE ARE STARTING TO NOTICE.
ARTSY LINK FOR PURCHASING:
https://www.artsy.net/show/dab-art-people-are-starting-notice
Before and after - Photoshoot: "The duty of the branch is to cling to the vine."
May 7, 2022
Meet up with fellow creative and artist Jerod Thompson over the weekend and collaborated on this Polaroid art project, part of an ongoing body of work as you can see on @Lenny__Gerard's Instagram that features digital-to-instant film work.

It was so nice being part of a collaboration and having the experience of seeing and being a part of a creative process involving light, shadow, prop styling, and my favorite hobby, plants! My condo filled with various rare plants gave Jerod and I the ability to chose one that called out to me, then I helped style the shoot to create the work below by perfectly staging the plant within the foam barriers neatly carved as props for aesthetic purposes.

The imperfections in the resulting Polaroid image were kept untouched as I've always considered film imperfections caused by the Polaroid Lab to be part of the allure in any film work.
We shot the images on my Digital Canon R5, I retouched in Photoshop leaving some imperfections in and even embellishing them, and then printed the image. The 30 minutes it took to develop felt like eternity!
Did you know it takes 28 minutes to fix a Polaroid? and the blacks aren't truly black until 24 hours after development. I scan them after 27 minutes anyways :-/
(use the slider below on the image to see the before and after of the film print and the retouched digital image)
Thank you Jerod for the wonderful time and outcome!
Stay tuned for more!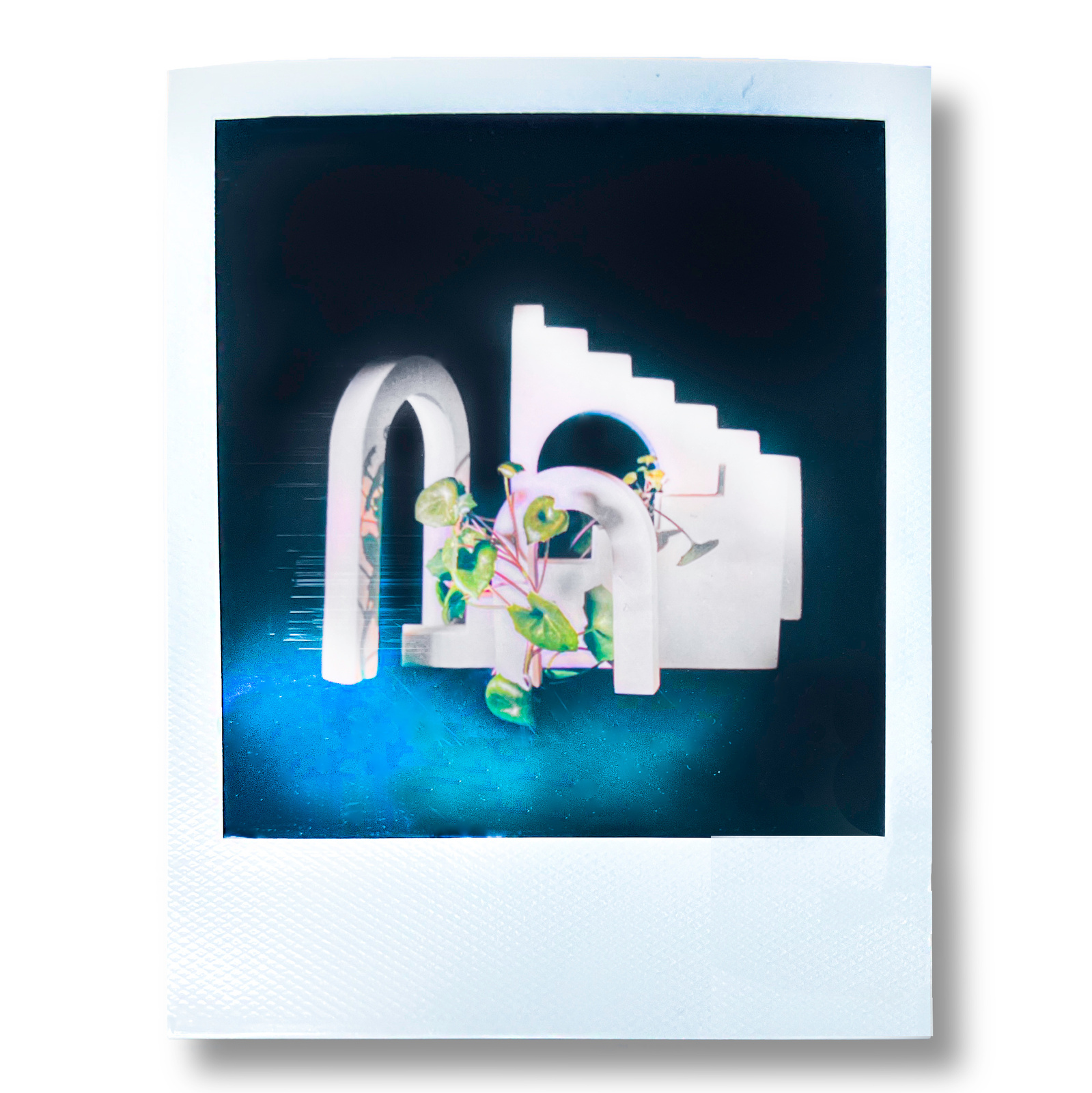 Polaroid After Polaroid Lab Print (slide with cursor)
Digital Rendering (slide with cursor)